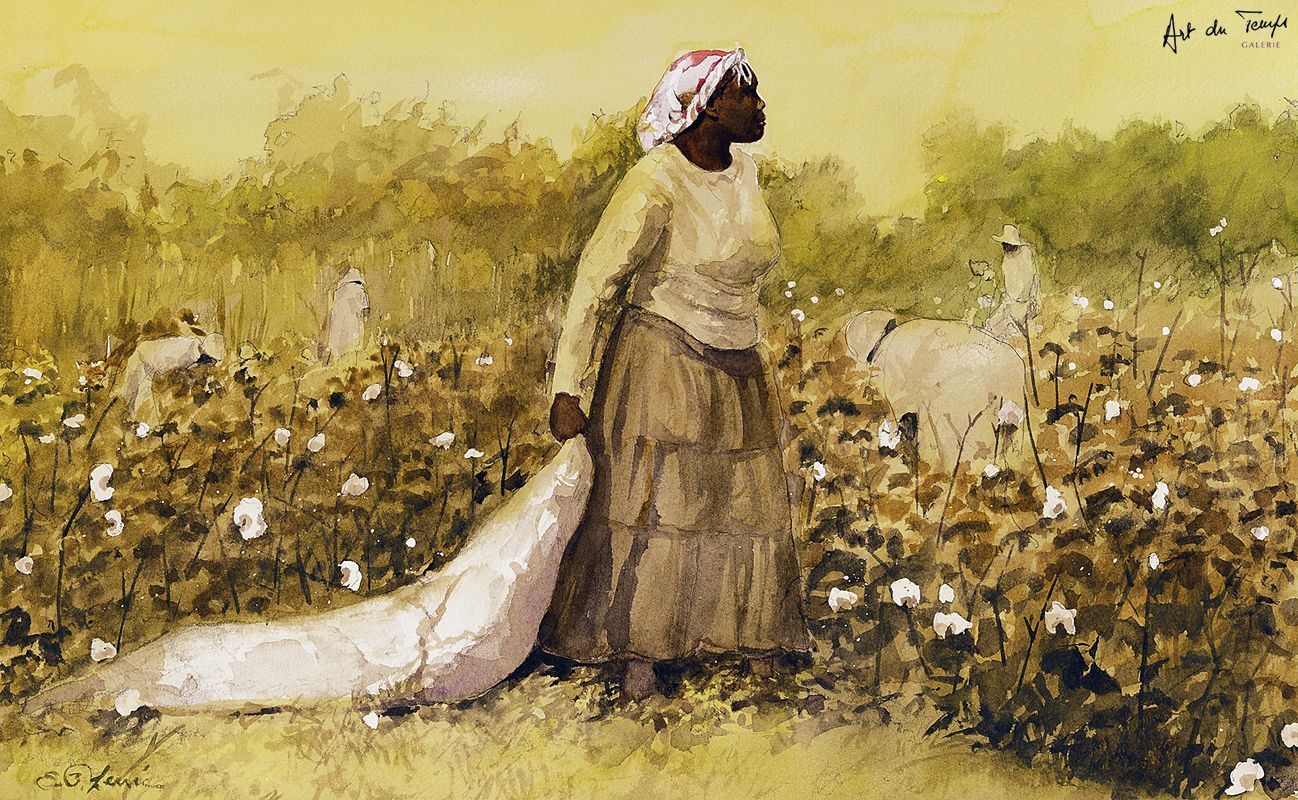 A graduate of the Tyler School of Art at Temple University, E.B. Lewis is a talented artist whose work in watercolor is well known. Critics across the Atlantic have described his work as "extraordinarily accomplished, authentic, bright, unforgettable, catchy, evocative and exquisite".
Born December 16, 1956 in Philadelphia, he demonstrates a very promising artistic ability from his third year in primary school. Inspired by two of his uncles, themselves artists, Lewis quickly enrolls at Temple University School Art League. Under the tutelage of Clarence Wood, a renowned painter, Lewis formally began his artistic training there until his enrollment at the Tyler School of Art at Temple University in 1975.
During the four years spent at the Temple, Lewis specializes in graphic design and illustration, as well as in art education. He discovers his favorite medium, watercolor. After graduation in 1979, Lewis devoted himself to teaching as well as graphic design.
Between 1985 and 1986, he directed a series of works that will be exhibited in a gallery in downtown Philadelphia. All of his work is sold and earned him immediate recognition from the very complimentary public and critics.
E.B. Lewis is rigorous in his research and meticulous in his work as an illustrator. His ability to interpret the human experience through different periods of American history by poignantly describing them, combined with his pedagogy, allows him to capture an audience of young readers. His illustrations of the complexity of American social history contribute to the body of children's literature by telling facts that are not found in textbooks.
But what really sets Lewis apart is his ability to use the medium of watercolor to elicit an emotional response. In various contexts, through various characters and integrated into various experiences, E. B. Lewis offers us his view of human emotions.
In Coming on Home Soon, a historical fiction piece written by Jacqueline Woodson during the Second World War, the reader feels nostalgia for the missing loved one. In Each Kindness, a realistic fiction, also written by Jacqueline Woodson, readers are saddened by a young girl's lack of compassion for a missing classmate. In Trouper, a book written by Meg Kearney, E.B. Lewis allows the reader to experience the pure, exuberant joy of a three-legged labrador recovering the embrace of her little master. Hester Bass's Walter Anderson's The Secret World, Mr. Lewis explores the silent joys of loneliness and concentration experienced by an artist who paints the natural world.
In 2003, Lewis gets the Coretta Scott King Award for Talkin 'About Bessie: The Story of Aviator Elizabeth Coleman. The book Coming on Home Soon, written by Jacqueline Woodson illustrated by Earl, was awarded the Randolph Caldecott Honor, the most prestigious award for children's literature. Lewis also recently produced ten watercolor illustrations for Maya Angelou's autobiography, "I know why the caged bird sings". Recently, EB illustrated the book "Preaching to the Chickens" on John Lewis's childhood. This is a wonderful book for which EB won the New York Times Best Book Award, and some of the originals the originals will be on display at the gallery.
Lewis's work is part of major private collections and is exhibited in galleries across the United States.
In 2019, his mission is to decorate, through some fifty works, the new Underground Railroad Heritage Center, a museum retracing the history of the Niagara Falls from 1776 to 1865. He is currently working on introducing a series of works relating to Jefferson and his report to the slaves in Monticello.
Lewis currently teaches illustration at the University of the Arts in Philadelphia and is a member of the Society of Illustrators in New York.